Lackierung in Spitzenqualität
Äußerst effiziente Anlagen
Manor Ghent signs partnership agreement
United again, now as partners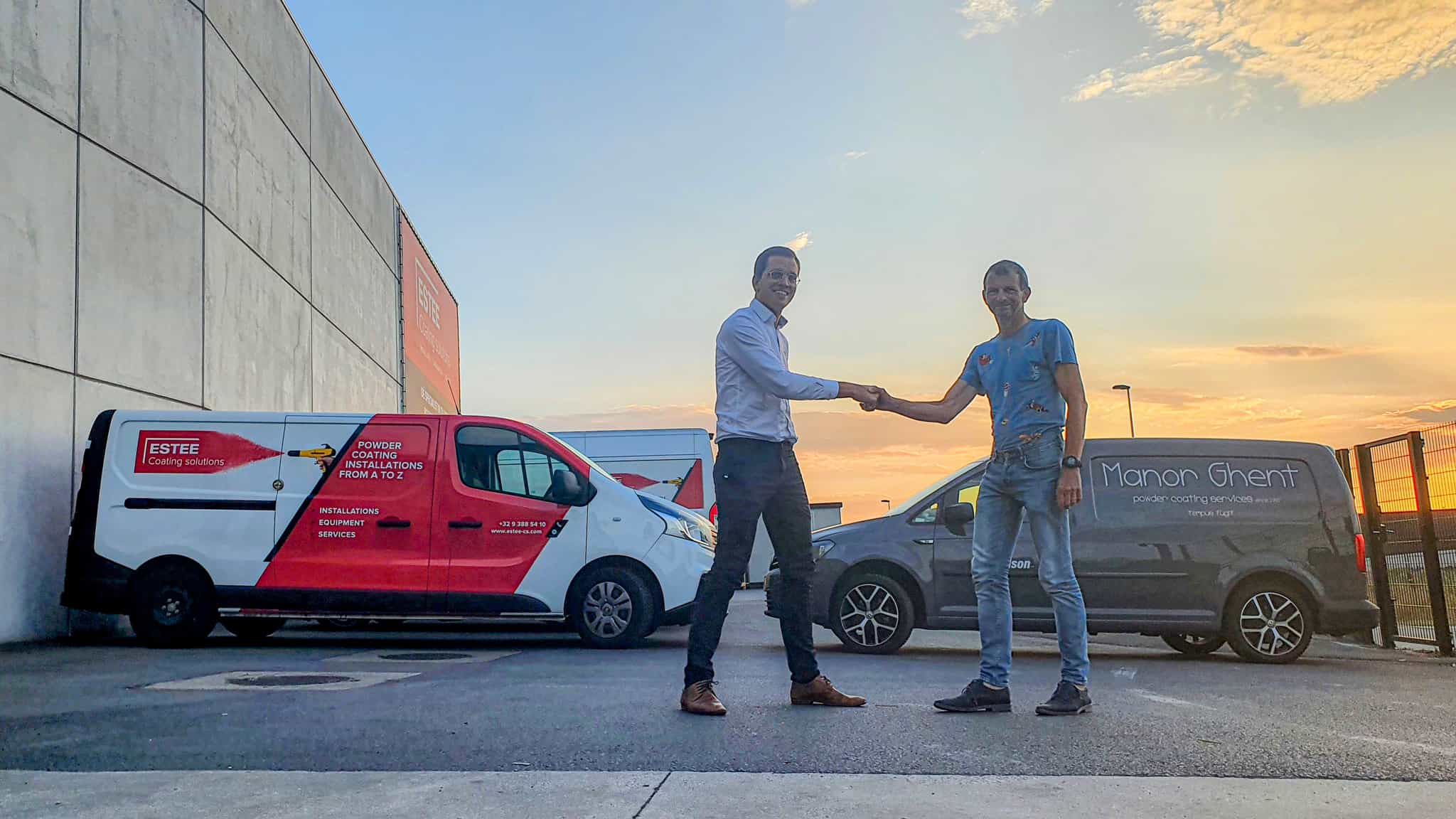 Joyous news in the powdercoating landscape: Nico Smets (founder of Manor Ghent) and ESTEE are united again, now as partners.
30 Years ago, Nico was one of the 2 founders of ESTEE, the producer of sustainable powder coating installations.
"The partnership came very naturally, because of the shared love for the profession and a similar set of values. Nico and I both stand for direct and honest communication, where loyalty and customer focus are key.", says Tim Florizoone, Managing Director of ESTEE Coating Solutions.
Nico Smets (Manor Ghent) adds: "Our cooperation is a win-win story that offers benefits to the customers of both companies. Our exchange of knowledge and experience will lead to further innovations in the products and services of both companies. Moreover, for me, it has come full circle: 'ES is back!' laughs".
For ESTEE Coating Solutions' clients, Nico Smets brings the following:
A hands-on mentality and a strong, personal support for small & medium installations.
Also for large installations, the support will be extended, for example with Nico's extensive experience in the complete powder coating process (incl. suspension techniques), and with his personal approach.
A further strengthening of the service team with over >30 years of experience.
As a powder chemist, an expansion of application techniques such as with dry-on-dry technology or the application of thermoplastics.
But also for the clients of Manor Ghent, the advantages are numerous:
Manor Ghent will be embedded as a partner in a larger whole, while maintaining its authenticity.
ESTEE brings strong innovation in sustainability and process control.
ESTEE also offers Manor Ghent customer access to large automatic powdercoating lines within the new configuration.
Manor Ghent becomes a sub-dealer of Wagner, with access to other application brands as well.
The existing customers are assured of continuity.
In short: a nice story that is mainly of benefit to the end customer.
Feneko- ESTEE REFERENCE
Pierret- ESTEE REFERENCE
Beddeleem- ESTEE REFERENCE
Rettig- ESTEE REFERENCE
New Holland- ESTEE REFERENCE
Renson – ESTEE REFERENCE
Duco – ESTEE REFERENCE




















































Feneko- ESTEE REFERENCE















Sie würden bei einem persönlichen Gespräch gerne mehr erfahren? Kontaktieren Sie uns gerne über das Kontaktformular. Einer unserer Experten wird Sie schnellst möglich telefonisch oder per E-Mail kontaktieren um einen Termin zu vereinbaren.